Products
Contact Us
Quanzhou DAFON Machinery Co.,Ltd.
Mob:+8615059560663
Mob:+8618959737879
Tel:0595-22607879
Fax:0595-22607879
E-mail:dafonmachinery@gmail.com
Add: Binjiang Industrial Zone, Xiamei Town, Nan'an, Fujian,China
Infrared Bridge Cutting Machine
Infrared Bridge Cutting Machine
【Name】Infrared Bridge Cutting Machine
【Model】DF1200-1600
【Category】Infrared Bridge Cutting Machine series
【Company】DAFON Machinery
【Clicks】6763
【Time】2018-07-04 01:53:59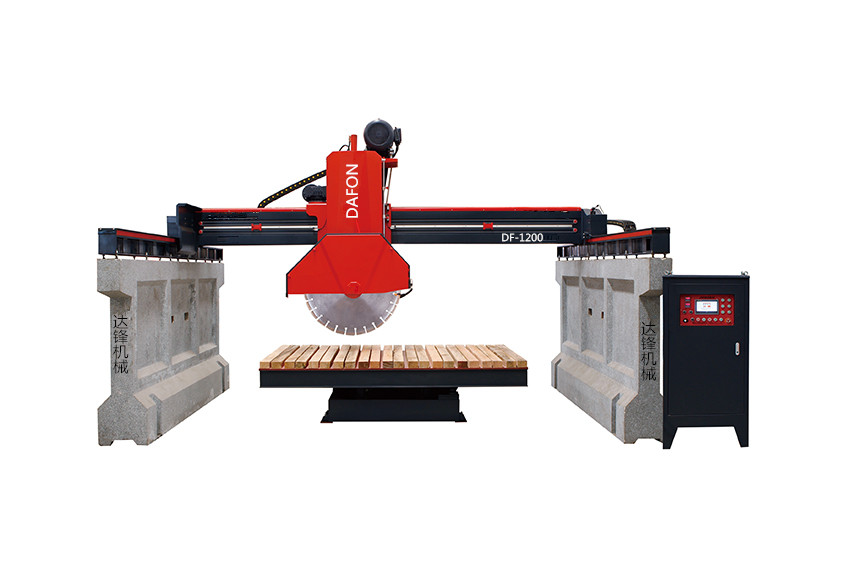 This machine adopts large span bridge structure, bean and boundary beam as well as guide rail are oil-immerse sealed, Lubricant forms a thin film of oil between the guide rail and the slider, meanwhile, there is beam protective film which can reduce material loss to the extreme, the imported frequency converter used in the pass system can achieve stepless speed cutting, equipped with 90-360 degrees rotating worktable. Rsotating flexible, accurate positioning, high rigidity, making the machine with smooth cutting and high processing rate, it is the ideal equipment to process high value stone, tombstone and curbstone. Electric appliance and rotating table with infrared edge cutting can realize automatic cutting. It is the only fully automatic machine cutting thick and thin slab.
a